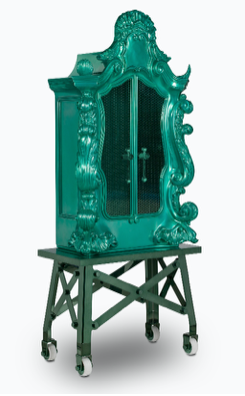 A multifaceted design approach in which blend classical details and contemporary cross-pollinations that hint at the artistic universe, this is the core of Clan Milano's philosophy. Thanks to a dynamic stylistic method that focuses on the mixing of disciplines, the Brianza-based company lends a contemporary and unconventional appeal to furniture pieces and accessories.
The iconoclastic and whimsical personality of Clan Milano permeates the Novegro cabinet, intensifying the contrast between baroque details and industrial design. The upper part of the cupboard evokes the refinement of Italian craftsmanship: precious classic friezes enhance the wooden structure in harmonious contrast with wire mesh doors and clamp handles.
The lower section features industrial-inspired details, the metal structure recalls functional mechanic carts on castors.
Verdant hues enhance the piece with shades that change from emerald to bottle green.